THE TERENCE CUNEO MEMORIAL TRUST
~ The Statue – As told by Carole Cuneo ~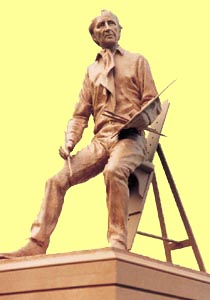 When my father Terence Cuneo died in 1996, there were many of his friends who felt that his achievements, as one of the 20th Century's best and most versatile painters, should be recognised and celebrated in some way, to encourage future generations to know and enjoy his exceptional talent.
A few like-minded people, together with our family, formed a committee. The goal was simple, to raise enough money to commission a statue of Terence Cuneo and give it a home in the most public and appropriate place possible.
Along with the statue, the committee considered that it would be a fitting tribute if the Cuneo name could also be given to an annual prize at The Slade School of Fine Art, his alma mater. As a result of this 'The Terence Cuneo Memorial Trust' was formally established as a Registered Charity in March 2002.
It is a measure of the affection in which Terence Cuneo was held by the Royal Family that HM The Queen graciously agreed to head the subscription list.
Thanks to a magnificent gesture from an admirer of Cuneo's paintings, Philip Jackson, the renowned sculptor was commissioned to create the statue.
With the help of Network Rail the 1.5 times life size Bronze Statue of Terence Cuneo now stands at The Royal Engineers, Brompton Barracks, Gillingham, Kent.
It was on the 26th October 2004, the statue was formally unveilled by HRH The Princess Royal, who also presented the inaugural CUNEO PRIZE to the Slade Art School student of their choice. Carole Cuneo will present the CUNEO PRIZE annually thereafter.