RARE TERENCE CUNEO PRINTS FOR SALE
The following sample of Rare Terence Cuneo Prints
are available to buy.
* * * * * * *
THE FLYING SCOTSMAN
(AN EXCLUSIVE PRINT LAUNCHED FOR THE
TERENCE CUNEO MEMORIAL STATUE)
"Halfway between Edinburgh and London"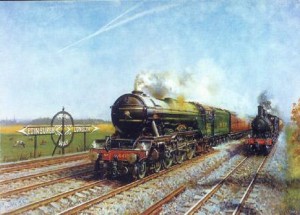 By kind permission of
 The Hon. Sir William McAlpine Bt.  & The Cuneo Estate
I am pleased to announce the publication of a Limited Edition Print 'The Flying Scotsman – Halfway between Edinburgh and London' by Terence Cuneo CVO, OBE, RGI.
The original painting was commissioned by Sir William McAlpine whilst he was the owner of No. 4472. It shows the LNER A3 Pacific at the halfway point of the 392.9 mile journey between Edinburgh and London.
The image size of the print is 500mm X 370mm and has an overall size of 660mm X 470mm.
The first 100 copies of the print have been signed & numbered by
Sir William McAlpine and Alan Pegler. Priced £115*
SOLD OUT
The remaining 175 are numbered but not signed. Priced at £55*.
A Special mount and frame is also available, further details on application.
The profits from the sale of this print will be donated to the Terence Cuneo Memorial Trust Charity to help pay for the Statue and the bursary at the Slade Art School.
 To obtain your copy please call 01747 820773/4 or email sales@terencecuneo.co.uk or write to me enclosing a cheque
* Please note P & P is not included in the above price, this will be £8.50 each.
* * * * * * *
PEN-Y-DARREN
(A SPECIAL PRINT LAUNCHED IN 2004, TO COMMEMORATE
THE BI-CENTENARY OF THE BIRTH OF THE STEAM RAILWAY)
"Pen-y-darren Locomotive"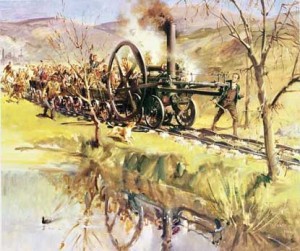 In 2004, to commemorate the bi-centenary of the birth of the steam railway, this Special Limited Edition Print was launched.
The original painting was commissioned by Richard Trevithick, the great-grandson of the inventor of the Pen-y-darren locomotive.
With just 200 prints being produced, and only the first 100 signed by the artist's daughter Carole Cuneo, stocks are now very limited.
Prices are as follows: Signed      £70
Unsigned  £40
Note. Cuneo Society Members are offerred a 10 % Discount from these prices.
Postage & Packaging is £8.50 extra.
* * * * * * *
---
 A wonderful image of Hounslow Heath, Limited Edition of 250 signed by Terence Cuneo and A C Campbell Orde, commisioned by BA for the occasion of their 60th anniversary, 25th August 1979
---
 In Association with the Ffestiniog Railway we are pleased to announce the publication of this limited edition Print. The Print shows Merddin Emrys and Linda at Tan-y-Bwlch. The Print will complement the Ffestiniog Workhorses, which is currently available.
The first 200 prints have been signed by the President, both Vice-Presidents and Chairman of the Ffestiniog Railway.
Prices
The first 200 prints (signed and numbered) are £110.00 each.
The remaining 150 numbered prints are priced at £50.00 each.
This is a unique opportunity to obtain a popular print and help raise much needed funds for the Ffestiniog Railway.
| | |
| --- | --- |
|   | "The Pass Track" |